Vikings Vs. Vampires
Vikings Vs. Vampires is a rules-light role-playing game suitable for all ages created by Ben Cartwright and Jon Merrell. A big inspiration for Vikings Vs. Vampires was the wonderful game Honey Heist created by Grant Howitt.

We hope you like our game! We made character sheets with a Vampire theme, and character sheets with a Viking theme that we are releasing for free. Check the shop for those.
WHAT YOU'LL NEED:
An even number of Viking and Vampire players--at least two people.
Something to take notes on.
At least two six-sided dice (D6), though several may be handy.
A twenty-sided die (D20) to pick your character's name (optional)
A love of making up stories.
A love of Vikings and/or Vampires.
_______________________________________________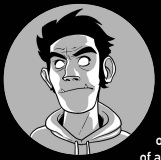 Vikings Vs. Vampires was originally concocted and released as a 'zine in 2023 for Spokane Zine Fest. People were very encouraging at Zine Fest and asked if we could release the game online, too, so that's what we are doing. This is our first game, and our first time collaborating on a project together, though Ben has collaborated on other art projects with Jon's wife Lindsey. Ben is a published poet and professor at a community college, and Jon is a print maker, fine artist, and a designer for his day job.
Download
Click download now to get access to the following files:
Vikings Vs. Vampires.pdf
20 MB